The Complete Idiot's Guide to Year-Round Gardening
Order now!
Here's what readers are saying:
Ramble On Rose: Book Review: Year-Round Gardening
"The Complete Idiot's Guide to Year-Round Gardening" covers just about everything you need to know for vegetable gardening and a good deal of what you need for strictly ornamental gardening. Soil preparation, no-till methods, and building raised beds are addressed early, followed by seed starting, covers for outdoor gardens, and extensive chapters on greenhouses. Readers will learn the types of greenhouses available, how to establish and maintain one, and even how to create an entire thriving ecosystem within one. Tidbits on garden design concepts, bulb forcing, and grow lights for indoor gardening are peppered throughout the text.
This vast amount of information is clearly presented in a casual, readable tone. It's also well-organized and includes call-outs of key tips and ideas. If you want to garden all year, regardless of your location, this book will explain exactly how to go about doing it.
The entire review can be seen here – http://rambleonrose-rr.blogspot.com/2010/02/book-review-year-round-gardening.html
**********************************************************
All the Dirt on Gardening: Year-Round Gardening – the Complete Idiot's Guide
Note: This site is no longer online, so I am sharing an actual screenshot of the review below.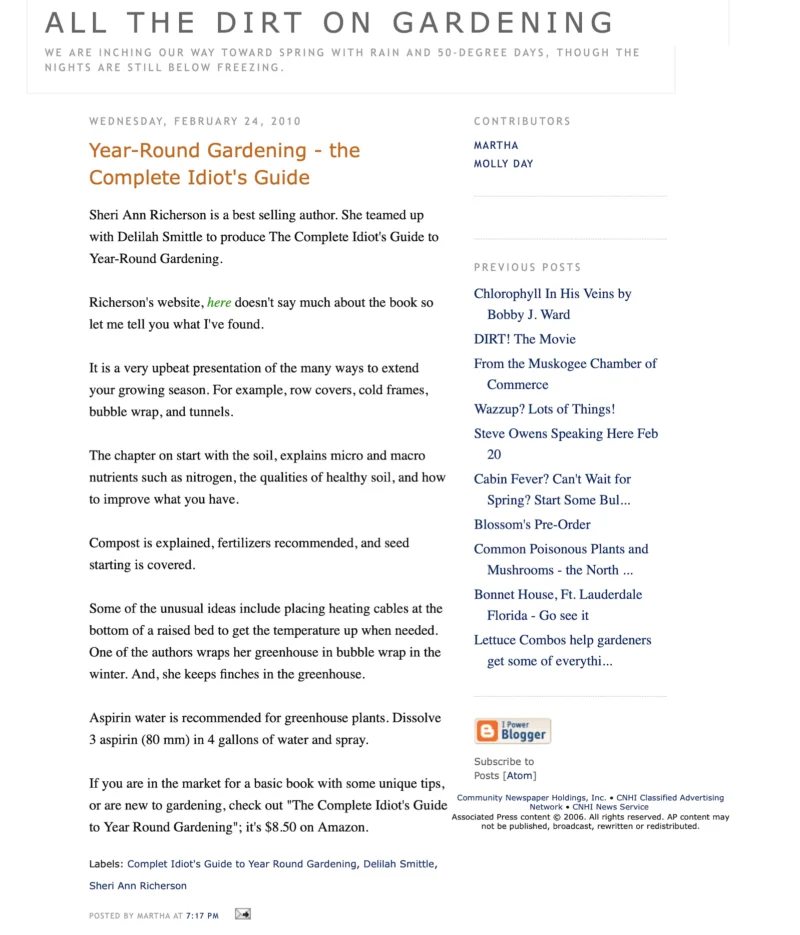 **********************************************************
Sheri Ann Richerson is a mutual member of a garden writers' list serve- think of this as gardeners gossip group meeting through the internet. Recently she announced that she and a friend, Delilah Smittle, had co-authored a book called, The Complete Idiot's Guide to Year-Round Gardening. She was looking for reviewers. I thought the book was written specifically with myself in mind so I put up my hand and said, "Yes, please." And then I put my hand down, closed my mouth and typed, "Yes, please." in an e-mail. As you can tell, Gentle Reader, I really thought I qualified.
There is a danger in reviewing this type of a book and that is the perceived expertise of the reviewer who, when preparing the dissertation, also wants the reader of the review to realise how incredibly knowledgeable the reviewer is. They tend to pounce on supposedly missing information with, "If I were to have written this little tome I certainly would have included this very important fact." Fear not, GR, no such elitism will appear here, my mind is as blank and open as the computer screen at which I am staring.
The book arrived about 3 weeks ago and I've been going through it carefully, looking for the bits that say, "This section is for you, Dan." Haven't found them.
What I have found is a nice comprehensive look at gardening in general with good guidelines on how to extend both ends of the season. The language is clear, not cluttered up with unnecessary jargon. The black and white photos, Donna Chiarelli Studio, are crisp and are meant to illustrate the text. Too often photos are slapped down in the middle of a page only because it is a really cool shot. Never mind that it is not entirely appropriate to the subject matter, a few paragraphs of rationalizing seems to satisfy the photographer's angst. This is not the case here. Even the few cartoons scattered throughout illustrate points with gentle humour.
The chapters take you through all aspects of gardening, introducing new material as it pertains to the gardening process. It is clear that a good deal of thought went into the selection of information so that the reader processes concepts in a logical, relevant manner. The newbies are encouraged as they realise they understand what is being presented and us more experienced tillers pick up little tidbits that we never knew we didn't' know. (Check out the aspirin therapy on page 245) In other words, this book is written for the readers and not as a treatise that trumpets the cleverness of the authors.
Interspersed with the main text are dialogue boxes (used in a manner very similar to the way I use parentheses) with the headings of Green Thumb, def*i*ni*tion, Garden Guide or Safety First. Little asides like how to get a hobby greenhouse for little or no money, exactly what is a complete fertilizer, how to direct light to maximize it's effectiveness and fungus in a compost can aggravate certain allergies.
The Appendices are treasure troves of concentrated information. For example, Appendix B, "Fruits, Vegetable and Herbs" is a chart of how-to and when-to plant specific, um, plants. Appendix A is the glossary, also written in a fashion to impart meaning without cluttering up definitions with polysyllabic jargon.
I admit that part of paragraph two does apply. In the soils section either a photograph or a line drawing of a soil profile with a plant's roots running through it would have been helpful. A soil triangle- a chart that shows the composition of sandy soil vs. sandy loam vs. loam etc, ditto. But these are trivialities compared to the overall purpose of the book.
I do recommend Year-Round Gardening as an excellent, reader-friendly introduction to this type of gardening. There are many other books out there, with explicit information that go well beyond this one. However, you can't work away with the more complicated facets until you have understood the basics. This book is basic, and that's a good thing.
Published by Alpha Books, an imprint of Penguin Books USA, The Complete Idiot's Guide to Year-Round Gardening, Delilah Smittle and Sheri Ann Richerson, ISBN-978-159257-970-9, can be found on the internet at Amazon books. The suggested Canadian price on the cover is $25.00; the Amazon price is $15.68. A quick check on the Chapters.Indigo site did not turn up this book although another Richerson offering was listed: Perspective Visions: Enigmatic Masterpieces.
Dan Clost's Greenscapes
The Good Earth columnist
[email protected]
You can find more of Dan Clost's articles online at http://www.icangarden.com
101 English Garden Tips
101 English Garden Tips is a fun, fine book, liberally packed with a wealth of wise, useful garden know-how. Sheri Ann Richerson is an experienced, super passionate gardener, and here she shares with her readers both her enthusiasm and her considerable understanding of gardening. A handy, useful, interesting and delightful book; would make an excellent gift for any gardener.
Thomas Leo Ogren, author of Allergy-Free Gardening, Safe Sex in the Garden, from Ten Speed Press, and Random House.
101 English Garden Techniques is chock full of essential information, broken down into logical, manageable chunks. Whether you're passion is for roses or rock gardens, you'll find instructions here on how to get started. Sheri includes both practical information, like how to make your own pest control products, and more whimsical suggestions: enjoying edible flowers. This book is perfect for anyone who wants to start their own English style garden.
Ellen Zachos, author of Down & Dirty: 43 Fun & Funky First-Time Projects & Activities to Get You Gardening (Storey Publishing)
"The title of Sheri Ann Richerson's book is deceptive. It's packed with plenty of tips on every aspect of gardening, from chocolate gardens to how to protect roses from winter kill."
–Doreen G. Howard,
award-winning journalist and former garden editor for Woman's Day
Magical Gardens:
Hi Sheri!
I love your Magical Gardens Amazon Short. The concept of creating a garden incorporating your beliefs … how beautiful and inspiring! Soooo much detailed information in there … you really know your stuff. You give specifics on what to choose for various purposes and I love that because I would be lost trying to do this on my own.
The one thing I sooo missed was a photo of the beautiful plants and flowers … or better yet, of an example of one of these magical gardens.
Amazing work, great great job! I'm so glad I discovered this!
Much love,
Colleen
http://www.annarosejewelry.com :: inspiration bracelets
No green thumb … Will my son-in-law create my magic garden?, December 17, 2008
By Betty L. Dravis
Anyone who knows me, knows that I don't have a very green thumb. Heck, my thumb has been known to kill so many plants, it's actually yellow… a little yellow coward that runs at the first mention of gardening.
But there's nothing I enjoy more than a lovely garden ablaze with brilliant blossoms in every shade of the rainbow aesthetically placed among rows of greenery so lush I feel like I'm in a tropical paradise.
I bought this Amazon Short in hopes I could lure my son-in-law into creating a fabulous garden in my back yard. His thumb is so green, I often fear he might one day become green all over, like the "Incredible Hulk." … lol … But all kidding aside, he's a master at creating magnificent garden settings. You should see their backyard; the pool area is to die for! Whenever I visit them, I feel like I'm swimming in a natural pool amongst the lush foliage of Kauai, Hawaii's Garden Island.
I applaud Sheri Ann Richerson, the author of Magical Gardens, for her awesome gardening skills and for her contribution to "greening" the world. She not only has over twenty years of newspaper, magazine and creative writing credits, she's a well-known speaker, a garden coach and writes on a regular basis for "Garden Solutions Magazine." She has too many credits to mention, but she's a Purdue University Silver Level Master Gardener and a Horticulture Gardening Institute Instructor and is a Global Warming Ambassador for the National Wildlife Federation … just to name a few.
In addition, her farm, Exotic Gardening Farms, is a certified wildlife habitat.
Richerson is known for her magical garden themes: Moon Garden, Fairy Garden, Tarot Garden, God or Goddess Garden, Zodiak Garden … and the list goes on. She encourages people to use their imagination to come up with their own themes.
In this short story she details all that's required to create those gardens and more. Don't they sound captivating? They certainly enchanted me, but since I know my limitations, I'm hoping this article inspires my son-in-law to create something special for dear old "Mom" … come springtime, of course. I'll let him get through the Holiday Season without hitting him with my latest project. Am I generous or what?
I highly recommend this article to anyone who's interested in gardening. Richerson is also the author of a poetry book, Perspective Visions: Enigmatic Masterpieces, which in the author's own words is "a unique work of art showing the darker side of life and love." I haven't read it yet, but it sounds intriguing.
END-NOTE: The five stars are for the author's gardening credits, skills and the helpfulness of this short article; her punctuation would not pass the "green" test.)
Reviewed by: Betty Dravis, December 2008