Disclaimer: The reviewer has been compensated in the form of a Best Buy Gift Card and/or received the product/service at a reduced price or for free. There are also links to products I recommend from companies I have a referral relationship with. I will be compensated if you make a purchase after clicking on my links.
Having the best firewall device on the market is really important to me because I want my information to be safe and this is why I use Cujo Ai Smart Internet Security Firewall.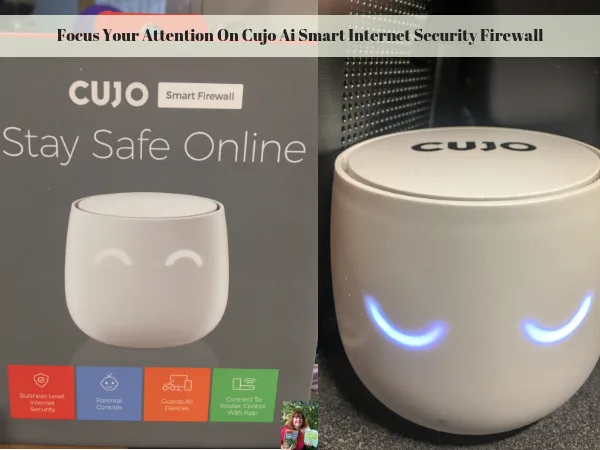 What Is CUJO?
In today's world where hacks and web threats are very real even if you are not a big company, it is more important than ever to have business-level security on your home network and make sure every device you own is protected.
CUJO is a smart firewall and does secure all devices in your home as long as they are connected to your WiFi router.
I have been amazed at the numerous times CUJO has detected and blocked malicious sites, viruses, and hacks.
I had no idea that these things were a threat and when I first saw the push notifications appearing on my phone I was concerned so I contacted CUJO tech support.
They explained CUJO was like an antivirus for my entire network and even though I was not trying to go to some of the sites I was seeing listed, there were all kinds of potential vulnerabilities I was being exposed to unknowingly such as adware, spyware and malware.
Cyber attacks, security threats, and home hackers are everywhere these days.
With CUJO connected in my home, I feel so much safer.
CUJO's Main Features
Business-Level Internet Security
CUJO Guards All Devices
Parental Controls
CUJO Connects To Your Router, You Control It With An App
Blazing Fast (built with 1GB Ethernet)
CUJO Keeps Younger Family Members Safe Online!
Another really important reason to have a good firewall is to keep the kids and grandkids safe when they are online by letting you control what they can access.
The Internet is a really scary place for kids because there are so many potential threats from child predators, peer bullies and things children should not see that are so easily accessible these days.
Thankfully with CUJO parents and grandparents have a way to monitor what is going on online with their children or grandchildren, then do something about any potentially harmful situation before it spirals out of control.
It is easy to use the app to block all categories or simply a few.
The categories currently listed include:
News
Religion
Others – described as category which matches all other not selected categories
Shopping
Social
Streaming
Gaming
Rated R
Web email
Advertising sites
Adult
Entertainment
CUJO Parental Control Features
Parental controls for all devices
Internet filter
Time limits
Social media monitoring
Pause the internet
Alerts and reporting
Remote administration
User profiles and settings
Setting CUJO Up Is Super Easy Even For The Non-Tech Savvy
CUJO doesn't come with a lot of instructions, in fact, they are almost non-existent.
Basically, they tell how to connect CUJO and where to find the app to download it.
I felt confused and wondered how to set this up, that was when the first phone call came in.
When you set up the app, it asks for your phone number, from there a tech support person from CUJO calls you.
Through remote access, they are able to set up CUJO so literally, all you have to do is connect it to your router and download the app.
So far I have allowed remote access twice – once on the day I connected CUJO and once when all of my devices were recognized so he could verify that they were indeed all mine.
I had some devices whose names I did not recognize.
The tech person helped me identify which devices were mine and rename them so I could tell which ones were which.
I appreciated that because then I knew no one else was accessing my WiFi.
What I Love The Most About CUJO
Having CUJO installed really has given me peace of mind.
I know my devices, my internet, and my files are safe.
I know any children in my home are also safe online.
What I love the most though is that the tech support team from CUJO was right there on the spot to help me get it set up right without frustrating me.
The remote access was great and was the most stress-free technical support session I have ever experienced.
The two technicians I spoke to were helpful and friendly which I appreciated.
For me, the best decision I have made was to install the CUJO Smart Firewall.
I highly recommend that you install one on your home network as well because we all need to stay safe online and keep our personal information protected.
I also recommend purchasing Cujo at Best Buy because I love their tech support.

I highly recommend the following articles:
Use the buttons in the upper right hand corner to share this article with friends or family who might find it useful. Pin the picture below to your pinboard on Pinterest for future reference.