Disclaimer: This post has been sponsored by Photokey 8 Pro and I have been compensated for posting it by receiving a copy of the software for free (please read to the bottom for an update on this broken promise). However, my opinions are based on my individual and unique experience. All opinions are 100% mine. I would never recommend a product or service to my readers that I did not like myself. 
Photokey 8 Pro is an amazing green screen software program – in fact, it is the world's leading green screen software!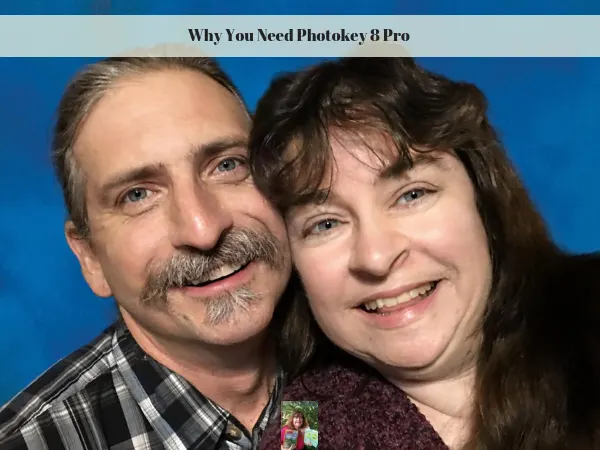 Bloggers – or for that matter anyone who takes a lot of photos needs this software.
Imagine being able to get professional looking photos at family reunions, holiday events or even for your own blog.
Now in addition to the software you do need a green screen, adequate lighting and of course the ability to take great photos.
Setting Up The Photo Shoot
The first step to getting the software to work perfectly is to make sure your green screen is set up correctly and that it is evenly lighted.
Once you have this done, the next step is to position your subject in front of the green screen.
Now you want your subject to be far enough away from the green screen that they don't cast a shadow behind them. This applies to objects as well as people.
Now all you have to do is take the photo.
Using Photokey 8 Pro
In the event you did not already install the software onto your computer, do this first.
Download the photos onto your computer – and be sure you know where you put them.
Open Photokey 8 Pro and import a picture.
You can only work with one picture at a time.
Your picture goes in the foreground.
The software automatically removes the green screen!
As long as the lighting was correct, there is nothing more to do but choose the background you want and export the photo!
What I Love About Photokey 8 Pro
The ease of use of the program is the main reason why I love Photokey 8 Pro – but it is not the only reason.
I have worked with a lot of green screen software and I can tell you – without doubt – this is the easiest program to use.
You don't need to play with the settings or have an in-depth knowledge of the software.
The photos you print using the software come out great.
The backgrounds look professional.
When I took mine to be printed I was questioned about copyright on the photos which made me feel great!
I simply showed them the originals with the green screen background and was able to get my prints immediately.
I love that I can get great photos of my family when they are together without worrying about a photo studio being open – this is great for the holidays!
The backgrounds work great for blog posts too.
I don't know about you but I hate having my house in the background of my photos.
I want professional looking blog photos – and I love that Photokey 8 Pro offers 750 high-quality backdrops!
PhotoKey 8 Pro For The Professional Photographer
For those professional photographers and photo studios out there – this is the perfect software for you too!
All you need is a green screen!
No more struggling with heavy, bulky backdrops!
No more searching for places to store all that equipment!
Simply set up your studio and start shooting!
Your customers are sure to love the backgrounds in Photokey 8 Pro!
An Update On The Free Photokey 8 Software
After writing the review, I contacted FXHome Limited to get the full license for the Photokey 8 Software, which was what we agreed on.
I was given the backgrounds that come with the Photokey 8 Pro Software, but I was never given an actual license to activate my copy of Photokey 8 Pro.
Then I upgraded computers and frankly did not think about it for a while until I decided to give the software another try.
It wasn't that I didn't like the software, but rather that I felt I needed better lighting and an actual stand to hang my green screen on.
I was asked for a link to the review and I gave them both the old link and the new link since I divided my blog up into three different blogs to niche down.
I was then told they would not be giving me a license because it was a legacy product.
I advised them I did not think this was right, since you can still purchase Photokey 8 Pro and since I know for a fact this article still gets traffic.
I also advised them I was going to share the screenshot reply with my readers because I felt they needed to know what happened.
Here is the screenshot.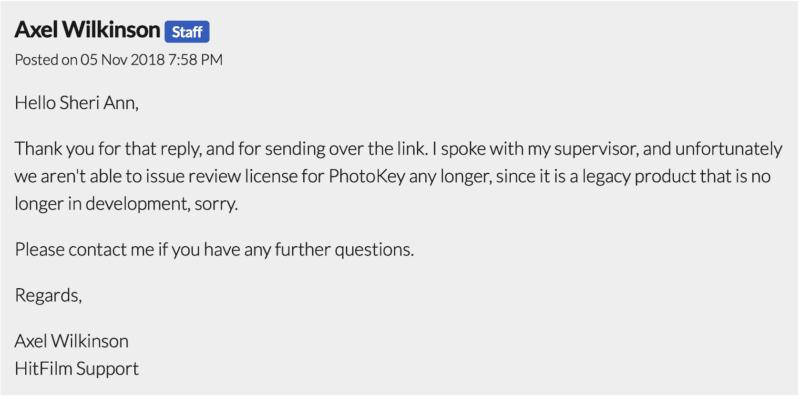 To say the least, I am disappointed.
I could say a lot more, but I won't because I do like the software, I have gone back to using Photokey 6 Lite which I bought and I also use HitFilm Express, which is free software.
I did buy the Composite: Pro Keying for the HitFilm Express and I do use it.
The software is good and I still recommend it, but I won't take their word anymore when it comes to them offering me a full license in exchange for a review.
I highly recommend the following articles:
Use the buttons in the upper right hand corner to share this article with friends or family who might find it useful. Pin the picture below to your pinboard on Pinterest for future reference.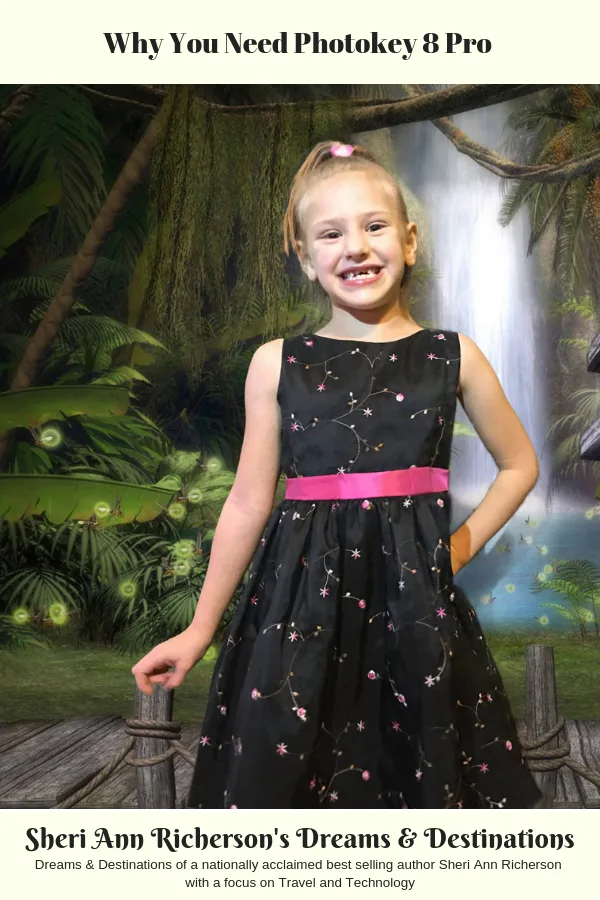 SaveSave